ERROL WILD MEMORIAL 'ACTIVE START' MINI-SOCCER FESTIVAL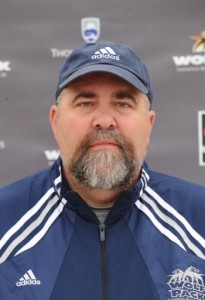 The KYSA has run a Mini-Soccer Festival for teams in the Under-5 up to Under-12 age groups for many years. This is an "in-house" jamboree-style event that is held over the first two-day weekend in June!
In 2011, the KYSA Board of Directors decreed that the Festival will be named after one of the KYSA's outstanding contributors, Errol Wild. Errol passed away in August, 2009 at the age of 49. He was inducted into the Kamloops Sports Hall of Fame prior to his passing, in recognition of many years of dedicated service to organized soccer in the city.
A park bench, stationed in the south-east corner of McArthur Island Park, is also a legacy of Errol's contribution to the sport. There are also two $1000 scholarships awarded annually through the TRU Foundation, in Errol's name, and one annual KYSA scholarship in the value of $500 that is presented to an outstanding student-athlete.
The Errol Wild Memorial 'Active Start' Mini-Soccer Festival is all about enjoying a weekend of soccer in a "tournament-like" format. However, no scores are recorded and no trophies presented––it's all for fun!